Our products
If you are entitled to an instant and automatic discount, it will be displayed in your cart.


Celebrate the start of autumn 2023
Until october 9 2023, get 25% off our generic training with code ¨AUTUMN23¨

Next
CONTROL HIERARCHY CAPSULE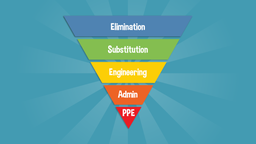 CONTROL HIERARCHY CAPSULE
In our workplaces, there are several control measures to intervene directly at the source of the risks. We call them the hierarchy of controls. This free educational capsule will give you an overview of the 5 components of the hierarchy of controls and the concrete measures to put in place for a safer work environment.
Owner name

:

Cognibox (SIM)